Basic Karaoke Rental Equipment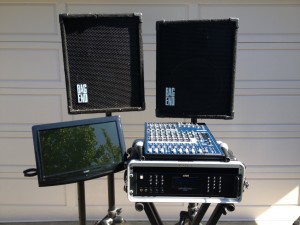 (2) Bag End / Yamaha Professional DJ Speakers
(1) 15" flat screen Monitor W/ Stand
(2) Shure SM58 Microphones
(1) 8 Channel Powered Mixer
(1) Furman Power Conditioner
(1) CAVS JB-99 Digital Karaoke Player W/ 26,000 Songs, updated every month.
(1) Crown 800 Watt Power Amplifier
(2) Ultimate Support Speaker Stands
We also have connections available,  for Smart phones and computers to play music.
---
Basic DJ Rental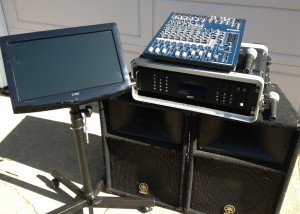 (2) Bag End Professional DJ Speakers
(2) Ultimate Support Speaker Stands
(1) Numark 5 Channel Mixer W/ Effects
(2) Stanton Professional CD Turntables
(1) Road Ready DJ Coffin
---
Basic Packages
Karaoke system rental-Delivered, Setup, easy operating instructions, and picked-up.
Karaoke system with host/VJ
Karaoke with DJ. The DJ will play music and operate the Karaoke system.
DJ-with full DJ system, and up to date DJ library in all genres.